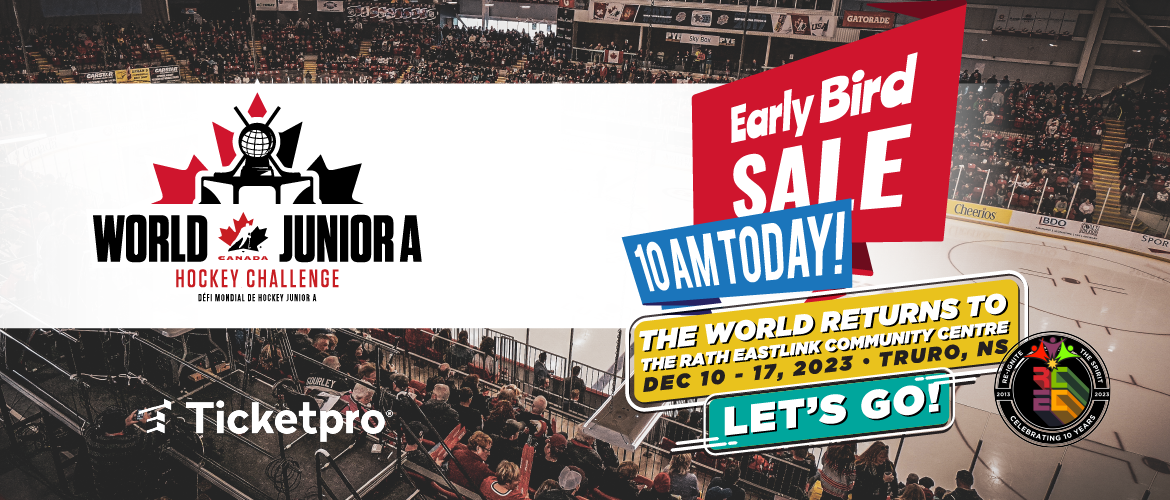 𝗘𝗔𝗥𝗟𝗬 𝗕𝗜𝗥𝗗 𝗣𝗔𝗖𝗞𝗔𝗚𝗘𝗦 𝗚𝗢 𝗢𝗡 𝗦𝗔𝗟𝗘 𝗧𝗢𝗗𝗔𝗬 𝗔𝗧 𝟭𝟬𝗔𝗠!
https://ratheastlinkcommunitycentre.ticketpro.ca/en/key-server/1587567301
Do YOU have a Truro Junior 'A' Bearcats Season Pass?! If so, you will receive 10% OFF your early bird package!
( Discount applies to in-person sales only )
July 27th, 2023
Truro/Colchester Prepares to Host the World Junior A Challenge at the Rath Eastlink Community Centre in December 2023
Truro, Nova Scotia
- The excitement is palpable as Truro and Colchester gear up to host the highly anticipated World Junior A Challenge once again this December. Set to take place at the renowned Rath Eastlink Community Centre, this prestigious international hockey event promises to captivate audiences with exhilarating matches and extraordinary talent from around the world.
"Our team is extremely proud to attract this major event hosting opportunity back into the region," said Matt Moore, General Manager. "The hosting experience in 2017 delivered significant positive social and economic impacts within the community, and we have no doubt that we will once again elevate the experience for everyone involved this December. Together with our partners, staff team, and volunteers, along with our revitalized infrastructure, we will continue to drive 'Event Tourism' as a key pillar to showcase the region, create business opportunities, and instill community pride across our region and province!
Let's go
!"
The 2017 edition of the World Junior A Challenge left a lasting impression on the hockey world and the community of Truro/Colchester. Now, with the support of enthusiastic fans, dedicated volunteers, and generous local business partners, the stage is set for an even more exceptional tournament. The Rath Eastlink Community Centre, known for its state-of-the-art facilities and passionate hockey community, will once again serve as the perfect venue to host this international showcase of top young hockey talent.
"We are thrilled to enhance the fan experience during the games with our new high-definition screen above center ice, designed to highlight both on-ice action and off-ice entertainment" said Mike Smith, Director of Partnership & Communications "Supported by a talented production crew and engaging game hosts, we are excited to raise the bar from 2017 and create an unforgettable experience for all our fans in attendance in 2023"
The RECC is excited to bring back the popular World Junior A Challenge to Truro/Colchester this December. It was an extremely successful event when it was first hosted here in 2017, and have the residents and local businesses of Truro/Colchester to thank for it. Using the Sport Tourism Economic Assessment Model provided by the Canada Sport Tourism Alliance and Province of Nova Scotia, it was estimated that the 2017 WJAC had a net economic impact of $1.9 million in the country. Of that, $1.7 million directly impacted the Province of Nova Scotia, with $1.5 million in the Truro/Colchester Region alone. This remarkable economic impact demonstrates the significance of hosting such world-class events in the region.
Early bird tickets and full tournament packages will be made available in late August, providing fans with the best value to witness all the action unfold on the ice. Stay tuned to www.therecc.ca and ticketpro.ca for details.
As the anticipation builds, the entire community is looking forward to welcoming the world to Truro/Colchester once again for the World Junior A Challenge in December 2023. Together, let's celebrate the sport we love, witness incredible talent, and create lasting memories during this unforgettable hockey spectacle. Let's go!
Stay tuned for further updates and announcements on ticket sales, participating teams, and event schedules.
About Rath Eastlink Community Centre:
The Rath Eastlink Community Centre (RECC) stands as a beacon of sports and community excellence in Truro, Nova Scotia. With its modern amenities and versatile spaces, the RECC has become a hub for various events and activities that bring people together. From sporting events to concerts, trade shows to community gatherings, the RECC caters to a wide array of interests, fostering a strong sense of camaraderie among its visitors. Equipped with an NHL size ice pad and room for 2500+ spectators, the RECC has become a cherished destination for hockey enthusiasts and athletes alike. Beyond sports, the facility offers a well-equipped fitness center, a walking track, climbing wall, aquatics centre and various multi-purpose rooms, ensuring there's something for everyone within its walls.
No stranger to major event attraction and execution. The Rath Eastlink Community Centre has recently hosted a slew of free events as part of its 10th anniversary celebrations, and as a way to give back to front line workers who supported our community throughout the covid-19 pandemic. Since the pandemic the RECC has come back stronger than ever to host events such as:
Brett Kissel 2023 *RECC 10th Anniversary Special*
April Wine 2023 *RECC 10th Anniversary Special*
NHL Alumni vs Local Leaders Hockey Game 2023 *RECC 10th Anniversary Special*
Holiday Dreams: A Spectacular Holiday Cirque 2023 *RECC 10th Anniversary Special*
IIHF World Juniors - Pre-competition Game 2023
Stars on Ice: 2022
PWHPA Secret Dream Gap Tour: 2022
Kim Mitchell: 2022
Dallas Smith: 2022
As the proud host of the World Junior A Challenge in December 2023, the RECC is dedicated to providing a top-notch experience for players, coaches, and fans alike. Its commitment to excellence and passion for community engagement make it the perfect venue to showcase the next generation of hockey stars on an international stage.
Media Contact:
Mike Smith
Email:
msmith@therecc.ca
Volunteer Opportunities:
Heather Fraser
Email:
hfraser@therecc.ca

Partnership Opportunities:
Joel Taylor
Email:
jtaylor@therecc.ca
For more information about the Rath Eastlink Community Centre and its upcoming events, please visit www.therecc.ca and follow us on facebook @ratheastlinkcc