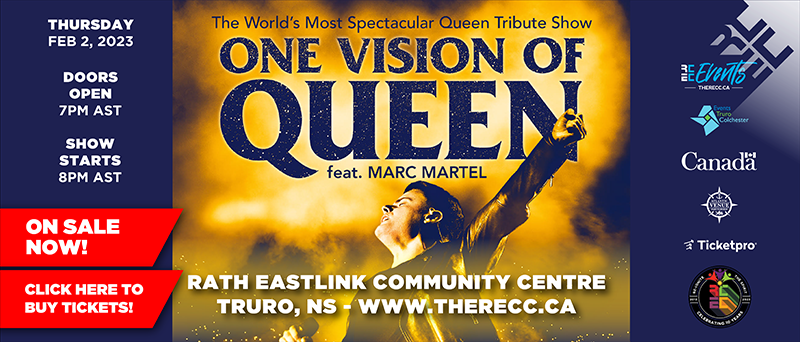 TICKETS ON SALE NOW

BUY TICKETS AT WWW.TICKETPRO.CA
The World's Most Spectacular Queen Tribute Show
Coming to
TRURO, NS on Feb 2nd 2023
(their only show in the Maritimes)!
ON SALE
"BLACK FRIDAY"
Nov 25th at 10am
via
ticketpro.ca
"𝑀𝑎𝑟𝑐 𝑀𝑎𝑟𝑡𝑒𝑙 𝑠𝑜𝑢𝑛𝑑𝑠 𝑎𝑛𝑑 𝑙𝑜𝑜𝑘𝑠 𝑗𝑢𝑠𝑡 𝑙𝑖𝑘𝑒 𝐹𝑟𝑒𝑑𝑑𝑖𝑒 𝑀𝑒𝑟𝑐𝑢𝑟𝑦" – New York Times
Martel, a true reincarnation of Freddie Mercury,
is the voice head on the hit biopic movie Bohemian Rhapsody!
www.marcmartelmusic.com/
With over 150Million+ views on Youtube One Vision Of Queen is now filling arenas across the globe! Don't miss out on a night of dancing & singing to all your favorite Queen hits!