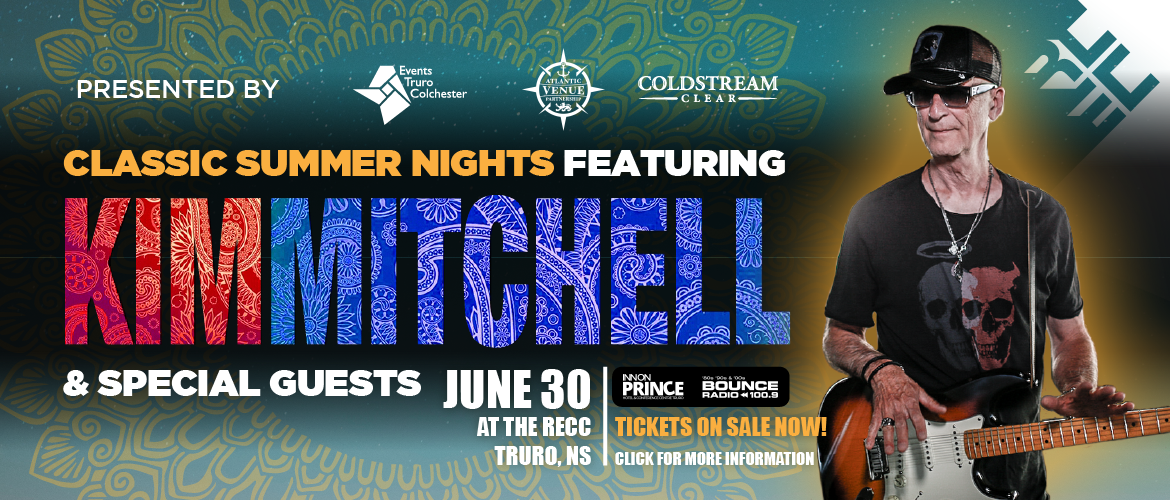 Buy tickets here
CLICK HERE FOR SEAT MAP

Tickets on Sale Friday May 6th at 10 am (Online/in-person at the RECC)
RECC Members Pre-sale Thursday May 5th at 10am (In-person at the RECC)

A return to those classic summer nights.Where your worries melt away in the heat of the sun.Where a cool drink, lively music and great company are your only priorities.
Come celebrate live music and togetherness, with the iconic Kim Mitchell live at the Rath Eastlink Community Centre on June 30th.
A man whose wizardry on an overdriven six-string has propelled his success since first emerging with Max Webster in the early '70s. Mitchell went solo a decade later, dropping his heralded debut Akimbo Alongo in 1985 and earning international acclaim with the classic "Go for a Soda." He's been doing his "Rock and Roll Duty" ever since, amassing an enviable pile of platinum and gold albums, major awards, and high-profile headlining sets as a beloved staple of the Canadian music scene. Classic hits like "Patio Lanterns," "Easy to Tame," "Rockland Wonderland," and "All We Are" remain important pieces of the Canadian musical landscape to this day!
Special Guests - TBA
Grab your friends and get ready to party.
You won't want to miss this concert!
No Re-entry19+ ( both bowl and floor )Doors 7:30 | Show 8:30
Two ways to enjoy the concert!Party on the floor (a dance area in front of the stage, with cabaret style tables and seating in the back –seating & tables are first come first served )
Or
Assigned seating in the Bowl

Tickets starting at 39.95 + taxes and fees.

Buy tickets at https://ratheastlinkcommunitycentre.ticketpro.ca/?lang=en#def_1504966003 or visit our box office at the RECC, 625 Abenaki Rd
Need a place to stay? Why not stay at the Inn On Prince? www.innonprince.com