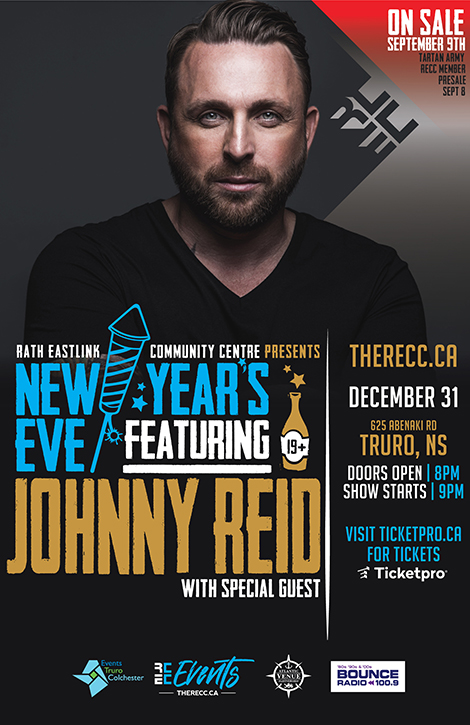 New Years Eve 2022 featuring Johnny Reid live at the RECC, presented by Events Truro Colchester
Since arriving on the music scene two decades ago, critically acclaimed singer songwriter, Johnny Reid has captured the hearts of fans and audiences around the world. Born and raised in Lanark, Scotland, the blue collared soul singer is widely known for his lyrical honesty and musical ability, as demonstrated by album sales totaling over 1 million units, countless awards and multiple sold out national arena tours.
Ring in the new year with Johnny Reid at the Rath Eastlink Community Centre in Truro, Nova Scotia on December 31st, 2022.
"We are once again thrilled to be welcoming Johnny Reid back to the RECC"
says GM Matt Moore
"We were treated to an amazing show when he was here in 2018, and there is no doubt it will be another sold out performance when he comes back this year"

Already a chart-topping, multi-platinum selling artist in Canada, Reid's songwriting resonates with audiences across the globe. Widely known for his energetic stage performances and talent for finding the grandeur in the highs and lows of everyday life; he's an extraordinary talent, unique in his field, making him one of the most loved and celebrated artists of his time. His recordings are filled with classic rock riffs laced with blue-collar roots and a voice that brims with force and honesty. He's an undeniable fan favourite, writing songs that chronicle the working class hero and have a blue-collar everyman feel, filled with fervent honesty and just the right mix of both personal and universal storytelling.
"
Every time I come to Nova Scotia … I feel like I am back where I was born, where I grew up. It's a place full of hard-working, good-hearted people and it's just a place that has always shown me a lot of love."
- Johnny Reid
We invite you to celebrate a brand new year with Johnny Reid, and special guest! Reserved seat tickets start at 79.95+taxes and fees. Why not get some of your Christmas shopping out of the way early this year with a unique gift idea that will be sure to please any music lover.
Tickets go on sale September 9
th
at 10AM and can be purchased online at
ticketpro.ca
by phone at 1-888-311-9090, or in person at the RECC or any ticketpro outlet.
Presale: RECC Members and Tartan Army members are eligible to purchase tickets on September 8
th
at 10AM ( RECC Members - In person at the RECC, Tartan Army via pre-sale code )
Don't wait – Tickets will not last long!
Doors open at 8PM | 19+ Only
For more information on Johnny Reid visit
johnnyreid.com